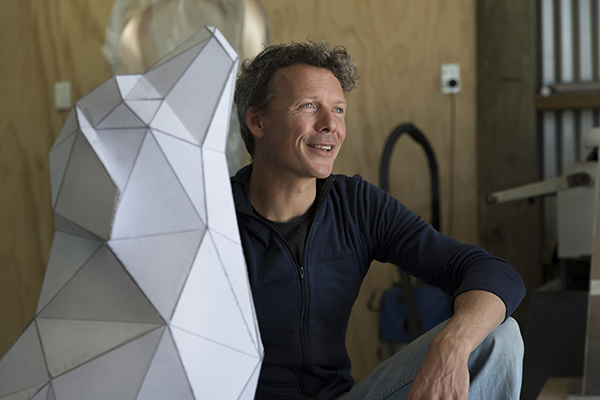 "My works are a culmination of the natural and the manmade - a careful balance of form and motion."
New Zealand sculptor Ben Foster draws upon the physical landscape of home with his static, stylised figurative works mirroring the dramatic forms of the mountains which are his backdrop. Similarly, his kinetic abstract sculptures echo the restless coastal waters and winds which swiftly reshape the stony shores. His artistic practice serves as a vehicle through which he explores human interaction with the land and the animals with which we share our lives and spaces.
The effects of everyday phenomena provide Foster with inspiration. He pays homage in works which both evoke and rely upon their surroundings. The 2013 Ribbon works, for example, mimic and constantly alter with the transient effects of light on the stainless steel bodywork. Essentially, these reflective, sculptural evocations of movement engage in a dialogue with their environment, ensuring their relevance within that ever-changing setting.
Foster's sculptural practice is not reductive – his abstractions are neither forced nor spare. Rather, his pared back sculptural forms harness the essence of the geographical features which inspired them, echoing their physical properties and environmental qualities, such as the bite of an easterly wind, or the rolling sweep of a breaking wave. Continuum (2013) is a prime example; it's a visually engaging work which, in its soothing fluidity, is simultaneously uplifting and restful.
In dispensing with superfluous detail Foster's works are imbued with an honesty which belies the industrial processes through which they are realised. And while Foster's works emulate natural forms, clearly the artist revels in the mechanical engineering which facilitates their creation. Indeed, the juxtaposition of organic versus manmade, appears to drive this artist's practice as he endeavours to achieve a harmonious fusion of the two diametrically opposed forces.
In polished or enamel-coated aluminium or stainless steel, Foster's organically-inspired forms are dynamic, tactile and elegant. Others exude light heartedness and humour. Golden Boy (2012) is the family Labrador incongruously realised in bold geometric forms. Foster has captured, in cool metal, the postural adoration of humankind's most loyal companion. Golden Boy is simultaneously endearing and daringly contemporary.
So too is Foster's The White Horse (2013). Here bucolic and industrial collide to impressive effect. These works align him with Tuffery and Parekowhai both of whom have employed engineered materials and recontextualised familiar animals to address their environmental and social concerns. The White Horse is both proud and gentle. Foster's geometrical rendering is suggestive of the animal's inherent connection to, and place within, the natural environment. Characteristically, it relies on the interplay of light and shadow and while the subject matter is ostensibly pastoral, the result is dramatic with the sculpture's silhouette as commanding as the mountainous landscape it resembles.
Foster's works are testament to his technical expertise and craftsmanship. In his sculptural treatment of figurative and abstract forms, the artist points to the interconnectedness of all living things. His sculptures reference and respond to the physical landscape hinting at mutual dependencies and inviting respectful contemplation.
Essay by Melissa Reimer
Solo Exhibitions
2016
Spectrum: Sanderson Contemporary Art, Newmarket, Auckland, New Zealand
2014
Nexus: Sanderson Contemporary Art, Newmarket, Auckland, New Zealand

2013
Continuum: Sanderson Contemporary Art, Parnell, Auckland, New Zealand
Preview: Mill Road Studio, Kaikoura, New Zealand

2011
Momentum: Sanderson Contemporary Art, Auckland, New Zealand


Group Exhibitions
2017
Group Exhibition: Tai Tapu Sculpture Park: Christchurch, New Zealand
2016
What We Make of It: MTG Public Art Gallery, Napier Hawke's Bay, New Zealand
Brick Bay Sculpture Trail: Warkworth, New Zealand
Group Exhibition: Tai Tapu Sculpture Park: Christchurch, New Zealand
2015
Flora & Fauna: Millennium Public Art Gallery, Blenheim, New Zealand
Sculpture on the Peninsula: Loudon Farm, Banks Peninsula, New Zealand
King's College Fine Art Sale: King's College, Auckland, New Zealand
Fusion: P-Art, Ibiza, Spain
Headland Sculpture on the Gulf: Waiheke Island , New Zealand
Tai Tapu Sculpture Park: Christchurch, New Zealand

2014
Melbourne Art Fair: Sanderson Contemporary Art stand. Melbourne, Australia
Art in a Garden: Flaxemere Gardens, Canterbury, New Zealand
King's College Fine Art Sale, King's College, Auckland, New Zealand
Opening Exhibition: Tai Tapu Sculpture Park, Christchurch
, New Zealand
Sculpture in the Lanes: Sanderson Contemporary Art, Newmarket, New Zealand

2013
Sculpture in the Gardens: Auckland Botanic Gardens, Manurewa, Auckland, New Zealand
Auckland Art Fair: Sanderson Contemporary Art, The Cloud, Queens Wharf, Auckland, New Zealand
Advent: Sanderson Contemporary Art, Parnell, New Zealand

2012
Advent: Sanderson Contemporary Art, Auckland, New Zealand
King's College Fine Art Sale, King's College, Auckland, New Zealand
Sculpture in the Garden: Riccarton House, Christchurch, New Zealand
NZ Sculpture OnShore: North Shore, Auckland, New Zealand
Sculpture and Object: Sanderson Contemporary Art, Auckland, New Zealand
Art in a Garden: Flaxemere Gardens, Canterbury, New Zealand
Shapeshifter: Lower Hutt, Wellington, New Zealand
2011
Laisee: Koru Contemporary Art, Hong Kong
Advent: Sanderson Contemporary Art, Auckland, New Zealand
Sculpture on the Peninsula: Loudon Homestead, Banks Peninsula, New Zealand
Art in a Garden: Flaxemere Gardens, Canterbury, New Zealand
Locale: Sanderson Contemporary Art, Auckland, New Zealand
Auckland Art Fair:Sanderson Contemporary Art, Viaduct Event Centre, Auckland, New Zealand
12 Walls: Sanderson Contemporary Art, Auckland, New Zealand
Sculpture in Central Otago: Rippon, Wanaka , New Zealand
2010
Advent: Sanderson Contemporary Art, Auckland, New Zealand
NZ Sculpture OnShore: North Shore, Auckland, New Zealand
Art in a Garden: Flaxemere Gardens, Canterbury, New Zealand
Heartland Sculpture Challenge: Timaru, New Zealand
E-Scape: Sculpture in the Landscape: Waitakaruru Sculpture Park, Hamilton, New Zealand
Ellerslie Sculpture Garden: Ellerslie International Flower Show, Hagley Park. Christchurch, New Zealand
Art in the Woolshed: Tawharanui Regional Park, Auckland, New Zealand
Bibliography
Vodanovich, L. "Excitement surrounds opening of new exhition" Hawke's Bay Today, October 2016,
www.nzherald.co.nz
Tait, V. "Ben Foster he balance of form and motion" Style Magazine, June 2016, pg 20 - 22
www.style.kiwi

Warmington, A. "Lasting Presence" New Zealand House and Garden Magazine, November 2014, No 243, pg143 -144
"The Art of Display" New Zealand Homestyle Magazine, October/November 2014, p34
Palladino, V. "Ultra-minimalist animal sculptures invade New Zealand" TheVerge.com, February 2014. www.theverge.com

Dr. Böhlandt, M. "Lord of Things" Artology Magazine, Germany, July 2014

Pinar, N. (2014) "Stark white geometric animal sculptures by Ben Foster" MyModernMet.com, February 2014. www.mymodernmet.com

Jobson, C (2014) "Geometric animal sculptures by Ben Foster" ThisisColossal.com, February 2014, www.thisiscolossal.com

Starr, B (2014) "Stark white animal sculptures contrast with nature" VisualNews.com, February 2014, www.visualnews.com

Rae, E. (2014). "Ben Foster's animals show off clean color palettes and breathtaking New Zealand Views" Core77.com, February 2014. www.core77.com

Apperly, J, Darragh, T and Sanderson, K (2013) "The Artists: 21 Practitioners in New Zealand Contemporary Art c. 2013 – 2015" Auckland, New Zealand: Beatnik Publishing

McNamara, T.J "Fresh works show off young talent" New Zealand Herald, February 2013
Bucknell, C. "Art Fresco" Next magazine, New Zealand, September 2012, p140

Santry, A, Sanderson, K and Darragh, T (2011) "The Artists: 21 Practitioners in New Zealand Contemporary Art c. 2011 – 2013" Auckland, New Zealand: Beatnik Publishing

"Local" Group show, Sanderson Contemporary Art Auckland, September 2011 [View exhibtion text]

"Momentum" Solo show biography, Sanderson Contemporary Art Auckland, February 2011 [View exhibition text]

Dangerfirled, E "Ben enjoys his success" The Marlborough Express, NZ, November 2011

Taylor, J "Kinetic Sculptor" Latitude magazine, October/November 2011, p84

Dr. Feeny, W "Preview" Centre of Conemporary Art, Christchurch, November 2009 [View exhibtion text]

Were, V. "Fresh Blood" Art News New Zealand, Spring 2006, p82