Locale
Sanderson Contemporary Art
Auckland
27 September - 9 October 2011
Locale brings together a group of artists utilising or developing concepts of 'place' in their work.
Rather than seeking obvious connections Locale develops unexpected and diverse linkages to 'place' across the work of the participating artists.
Locale presents direct references to specific places, such as the study of NZ National Parks presented by Matt Moriarty in 'Bone Park,' alongside more subtle inferences of physical location, such as Susanne Kerr's 'Backyard' series, where 'place' becomes domestic; familiar settings providing links to 'place' of a different kind.
Throughout the works, clear links to appropriated cultural iconography (playfully treated in both Kekeno from Ben Foster and Liam Gerrard's Doll) appear alongside the physical environments of this country. The cultural elements provide a common language and an insight into the background of each artist, defining and shaping their artistic concerns and providing a rich source of approach points to deal with their issues.
Unsurprisingly, one of the richest source of visual material can be found in the landscape of New Zealand. Wonderfully-observed photographic portraits of New Zealand bush, which feature as backdrops in Jane Zusters' images, sit in stark contrast to the suburban wastelands of P J Paterson's Stonefields and Tracey Walker's semi-scuptural abstraction in .95. While these three artists have common elements in their practice; all making environmental comments and using imagery from the New Zealand landscape to do so, within these works they create diverse interpretations that demonstrate just some of the myriad responses available. This provides an insight into the variety of ways that cultural identity and the corollary of a 'sense of place' can be conveyed through contemporary art.
Sanderson Contemporary Art, September 2011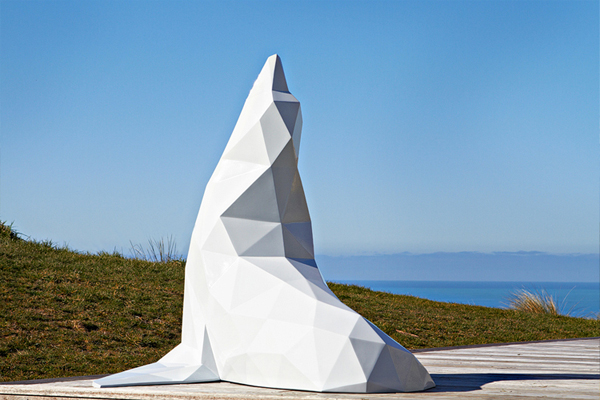 'Kekeno' by Ben Foster 2011, Aluminium, Epoxy Automotive Paint