Momentum
Solo Show: Sanderson Contemporary Art
Auckland
February 2011
Ben Foster's sculpture synthesizes Minimalist art practices and philosophies with a familiar Regionalist aesthetic. Foster's forms, sinuous, flowing and monumental in scale, are motivated by the sublime land- and seascapes of Kaikoura, where the artist's studio is set.
In his new work, Foster mounts an investigation of the symbiosis of the natural and the man-made. Turbine I is inspired by the turbines of hydroelectric generators in Central Otago, an engineered expression of man's reliance upon the force of nature, and a symbol of our relationship with the natural world. This duality is reinforced by the kinetic nature of the work, which stands as both an autonomous art object and a responsive, mobile part of the environment in which it is installed.
Since his childhood, Foster has been fascinated by industrial components like propellers and turbines, and his large-scale sculptural practice reflects this interest. The elegance of utility endows Foster's mechanical sources with an enduring appeal, and this beauty is captured in his work, where simple, minimal objects are rendered as archetypal representations of natural forces and forms.
Foster's experimentation with metal casting began during his formal art education, and since then, having gained further experience in various areas of industrial design, he has gained many of the skills and material knowledge of an engineer craftsman, employing demanding, time-tested production techniques to create his monumental works. Turbine I is constructed from six identically cast aluminium panels, with each section flowing into the next. The result is a lithe, classically balanced form that seems to effortlessly meld the force of nature with the will of man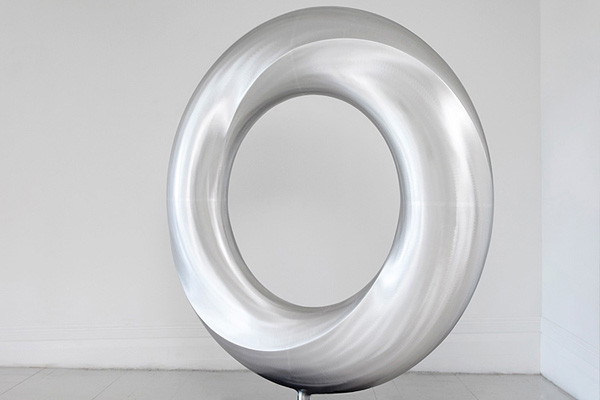 Momentum, 2011
Cast Aluminium, stainless Steel, sealed bearing, exterior sealant
1600 x 1600 x 350mm