Zürich residency 2018

Ben Foster is currently collaborating with Benjamin J. Fischer on a new sculpture series. The collaboration will take place in Switzerland, and will be exhibited as a solo show in Zürich.

The 'Bear and Ballerina' marks the first work in this exciting new series to be exhibited in Zürich, Switzerland early 2019. Follow the process of this exciting new work on Ben Foster's Facebook page" www.facebook.com
Concept sketch 'Bear and Ballerina' by Ben Foster
Life and Leisure

Ben Foster recently featured in the spring edition of New Zealand Life and Leisure. Read the full stroy at: www.thisNZlife.co.nz
GoodBoy destined for Washington D.C

Ben Foster was commissioned by the The Morris and Gwendolyn Cafritz Foundation, U.S.A to complete a large new work based on the much loved 'GoodBoy' work of 2012. This new commission stands at a colossal 2.5 meters tall and will be airfreighted to Washington D.C. late 2017.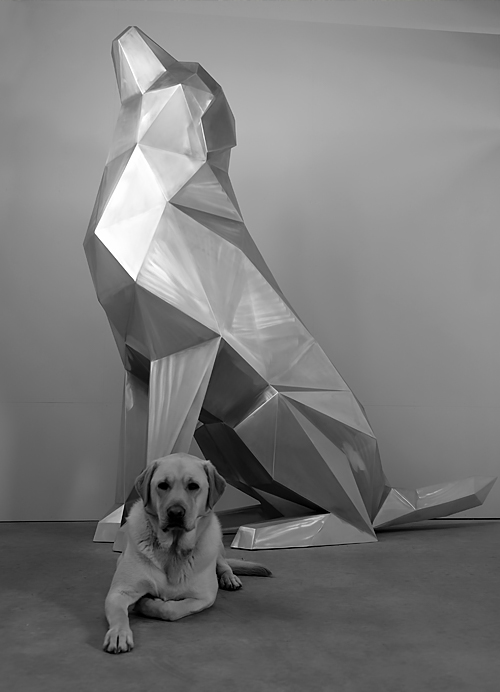 GoodBoy, studio process image (2017)
Tai Tapu Sculpture Garden
Cossars Road, Christchurch, New Zealand
Saturday & Sunday 4/5, 11/12 and 18/19
March 2017
Visit Tai Tapu Sculpture Garden: www.taitapusculpturegarden.co.nz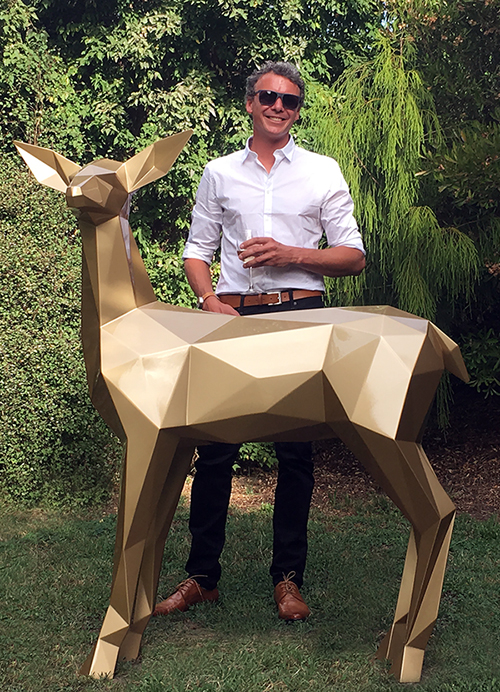 Ben Foster with the Gold Deer at Tai Tapu Sculpture Garden, March 2017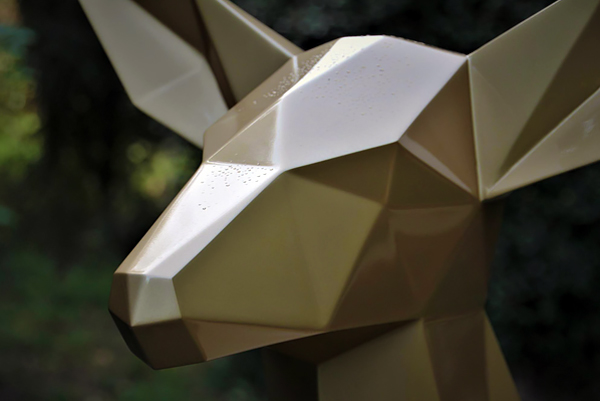 the Gold Deer at Tai Tapu Sculpture Garden, March 2017
SPECTRUM
Solo Show
Sanderson Contemporary Art, Newmarket, New Zealand
25 October - 6 November 2016
In his latest work Ben Foster engages abstract geometric form to capture various creatures, with immaculately constructed sculptures in coated aluminium that are playful and instantly familiar. Spectrum shows works of increasing subtlety, as Foster draws contrast between light and shade, human and animal, predator and prey.
View exhibtion at www.sanderson.co.nz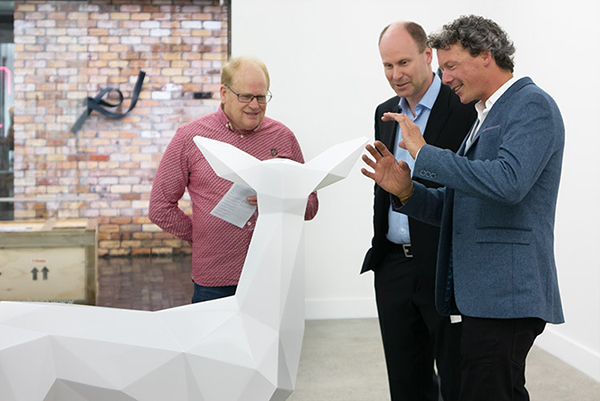 Spectrum solo show opening. Image courtesy of Sait Akkirman www.artsdiary.co.nz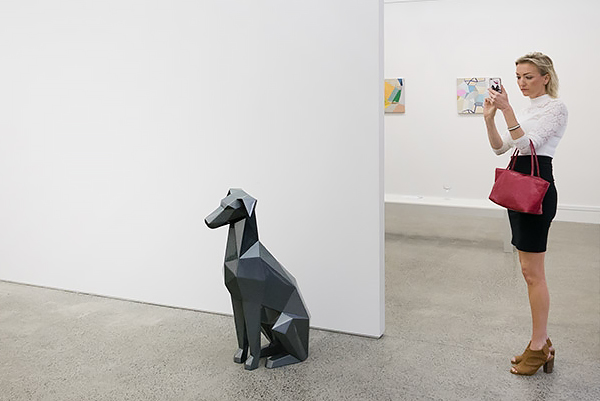 Spectrum solo show opening. Image courtesy of Sait Akkirman www.artsdiary.co.nz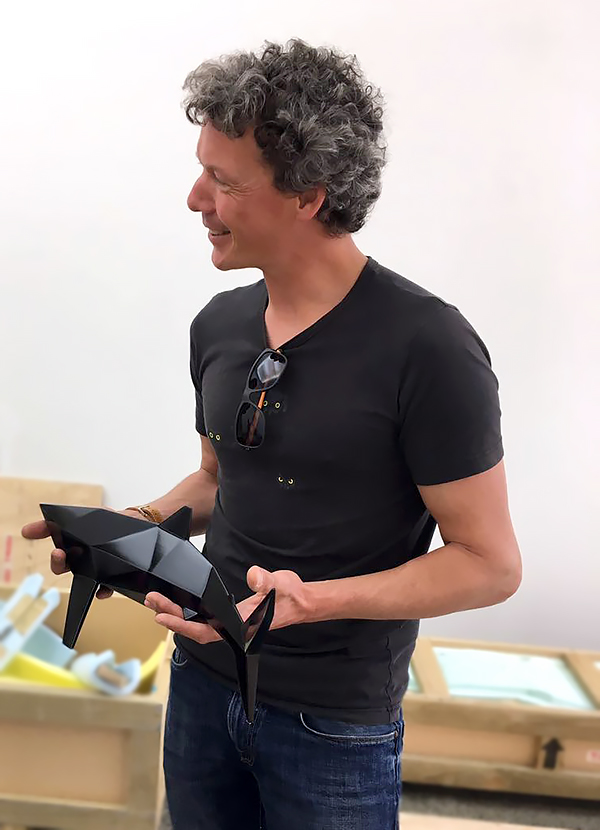 Ben Foster at New Zealand's Sanderson Contemporary Art, Auckland.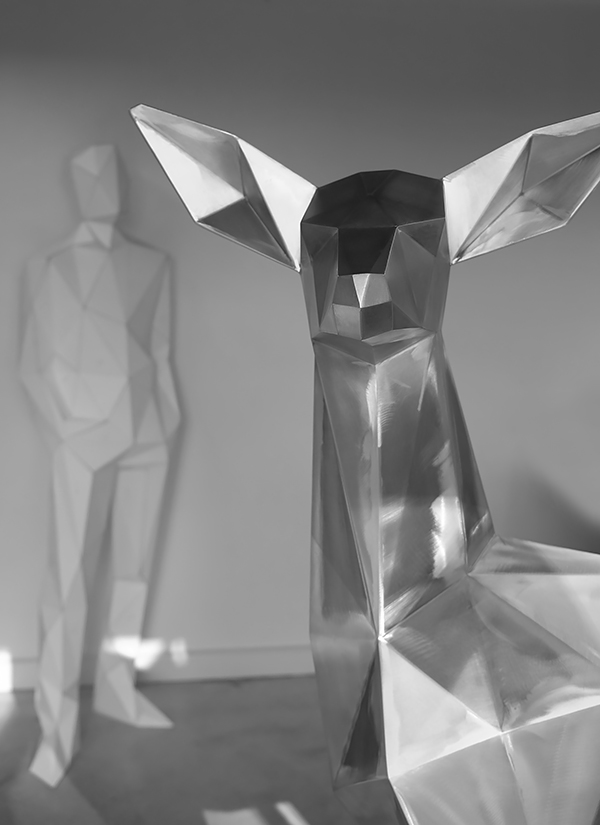 Studio process image for Spectrum 2016 Ben Foster
What We Make Of It - Hawkes Bay Sculpture
Group Show
MTG Hawkes Bay Museum, Napier
15 October 2016 - 12 March 2017
Featuring the work of 14 artists with a connection to the Hawke's Bay region, in an eclectic show that celebrates the way each artist makes something unique of their inspirations, materials and influences.
Birch/Bruce/Bryant/Courtillé/Dawson/Foster/Jameson/Matchitt/ Pearce/Poppelwell/Purvis/Scott/Scott/Terstappen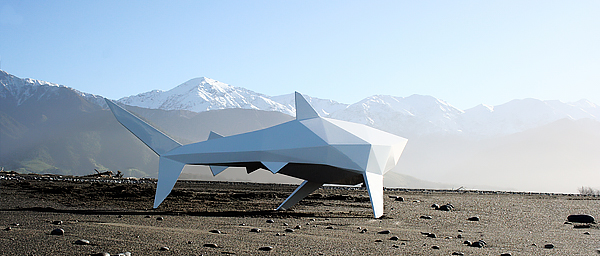 Style Magazine
www.style.kiwi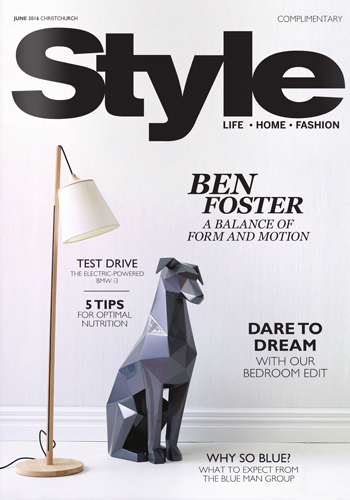 Brick Bay Sculpture Trail
Brick Bay Wines
Warkworth, New Zealand

The latest work from Ben Foster's Good Boy series installed at Brick Bay Winery.
Visit Brick Bay Wines: www.brickbay.co.nz
View sculpture details: www.benfoster.co.nz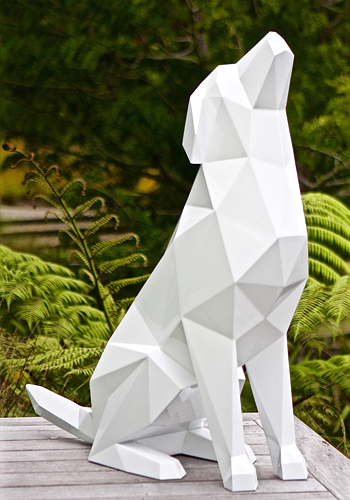 Good Boy, Brick Bay Sculpture Trail (Installed January 2016)
New work for Dubai

Latest commissioned work by Ben Foster for Dubai titled 'Kārearea'
View sculpture details: www.benfoster.co.nz
Kārearea by Ben Foster
Brick Bay Sculpture Trail
Brick Bay Wines
Warkworth, New Zealand

The latest work from Ben Foster's the White Horse series installed at the beautiful Brick Bay Winery.
Visit Brick Bay Wines: www.brickbay.co.nz
the White Horse, Brick Bay Sculpture Trail (Installed September 2015)
Hong Kong
December 2014
'Kekeno' installed in a new waterfront developement in Hong Kong.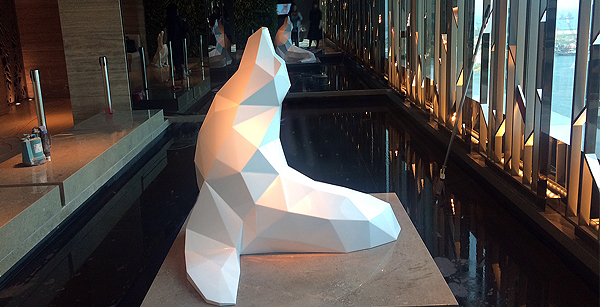 The Art of Display
Homestyle Magazine
November/October 2014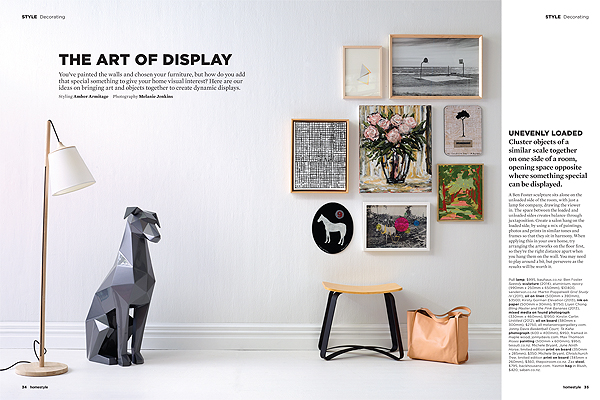 image: Photography Melanie Jenkins and Styling Amber Armitage for Homestye Magazine.
Lasting Presence
New Zealand House & Garden Magazine
November issue N0.243
Lord of Things
Artology Magazine
Issue No.3
Fosters sculptures accomplish a subtle balance between static form and floating motion, ingeniously culminating the natural and the handmade. Works like "Golden Boy" – a sculptural hommage to the Fosters family dog – mirror the dramatic forms of the mountains with their rugged and fractioned icefields contrasting shadowy rocks and boulders. Similarly, his kinetic abstract sculptures echo the restless coastal waters and winds which swiftly reshape New Zealand's stony shores. No wonder that Foster's sculptural work, which in many regards ligns him with Tuffery and Parekowhai, is backgrounded best by the actual landscapes that inspired them. And yet, despite his profound association with nature`s contouring mastery, the so broadly skilled sculptor never tries to conceal the mechanic and industrial origin of his statuary art. On the opposite, much of Fosters creative expression is derived from fusing the organic and the manmade with commanding consistency, no matter if carried out in polished or enamel-coated aluminium or stainless steel. There are still many adventurous and magical stories to be told about New Zealands majestic natural beauty and the power of creative vision ...just listen to Ben Foster [Read more at www.Artology.com]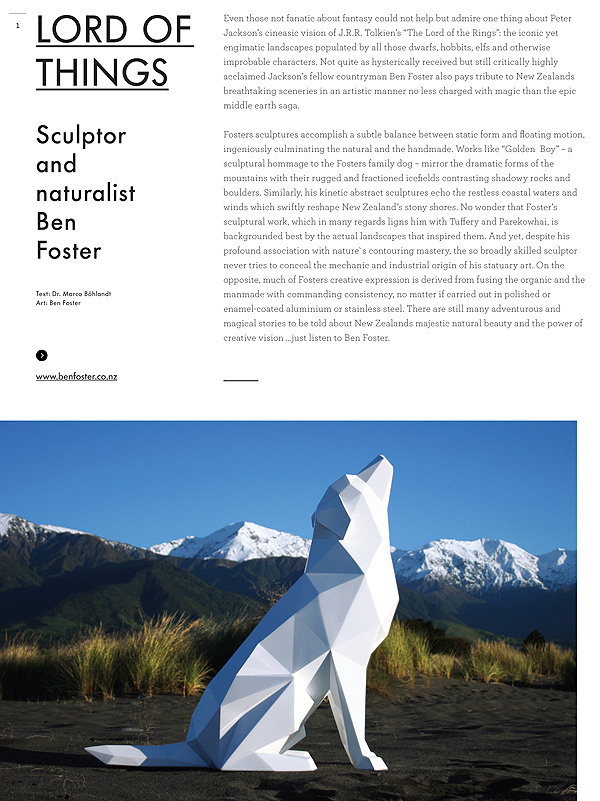 Melbourne Art Fair
Royal ExhibitionBuilding
Melbourne, Australia
August 13 - 17, 2014
Ben Foster's new work, the White Horse has been selected for this years Melbourne Art Fair. Visit the Melbourne Art Fair website: www.melbourneartfair.com.au for information about this years exhibition.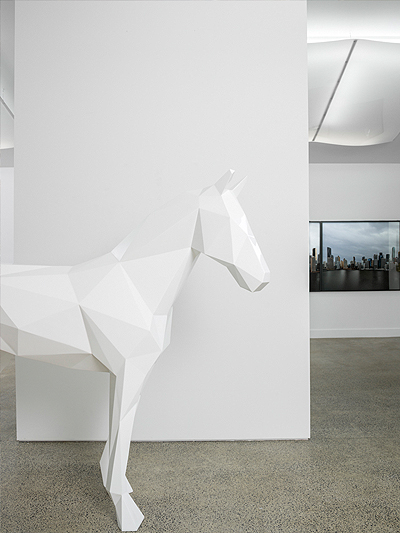 Sculpture in the Lanes
Newmarket, Auckland
February 2014
See Newmarket's boutique precinct, Osborne Lane, come to life with a celebration of stunning major sculptural works. Sculpture in the Lanes is a rare opportunity to see stunning and dramatically-scaled works and interact with them in their intended outdoor environment. Sculpture in the Lanes will feature a life-size aluminium horse from Ben Foster, carbon fibre kinetic works from Ray Haydon, and many more!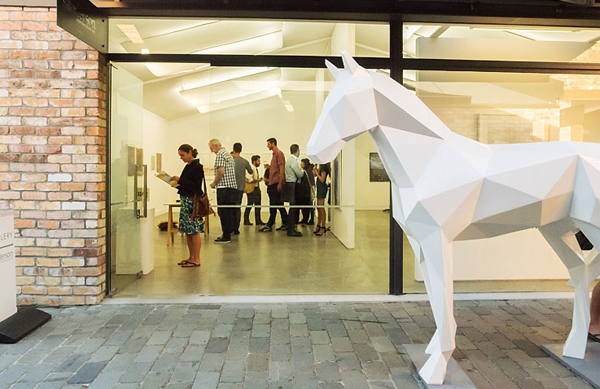 image: the White Horse by Ben Foster - image courtesy of Sait Akkirman www.artsdiary.co.nz
Stark White Animal Sculptures
My Modern Met
February 2014

Kaikoura, New Zealand-based sculptor Ben Foster creates modern, inorganic renderings of animals that boast a geometric design. Each sculpture in his portfolio, whether it be a seal balancing an invisible ball, a horse standing in place, or a dog howling at the moon, blurs the lines between the real and abstract. They also each incite spectators to shift their positions to get the full visual spectrum of their complex shape.
Read more at My Modern Met.com>

Angular Animals Show off Clean Palettes and Breathtaking New Zealand Views
Core77
February 2014
There are two things that Ben Foster most certainly knows how to do well—create gorgeous industrial versions of animal silhouettes and compose a damn good photo. It's not just luck or coincidence, either. There's a reason his work looks so fantastic nestled among the lush New Zealand scenery.
Ultra-minimalist Animal Sculptures Invade NZ
The Verge
February 2014
Stark white pieces of art never looked so inviting: New Zealand-based sculptor Ben Foster creates aluminum forms of animals using modern, geometric shapes. The sculptures are the same size as the real animals they portray, and Foster photographs them in picturesque spots in the New Zealand countryside.
Read more at The Verge: www.thevergre.com

Sculpture in the Gardens
Auckland Botanic Gardens
Manurewa, Auckland
9 November- 16 February 2014
Sculpture in the Gardens opened to the public on Saturday 9 November 2013 and runs through to Sunday 16 February 2014. Twenty three large scale artworks are on display, creating a 2km trail through the Gardens that will provide a stunning summer of sculpture in a beautiful garden setting.
Twenty six artists have worked tirelessly to create an exhibition of outdoor art that will appeal to everyone.
Friday 8 Nov saw invited guests celebrate the efforts of artists, staff and volunteers in putting the exhibition together and they also announced the Supreme award winner and Friends acquisition to remain in the permanent garden collection.
Auckland Botanic Gardens website: www.aucklandbotanicgardens.co.nz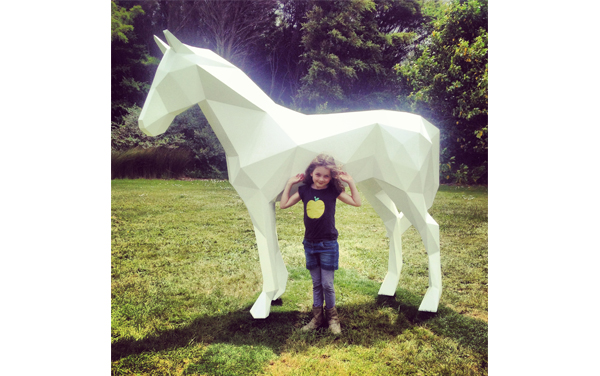 image: The White Horse installed at the Auckland Botanic Gardens (image courtesy of Elena Keith)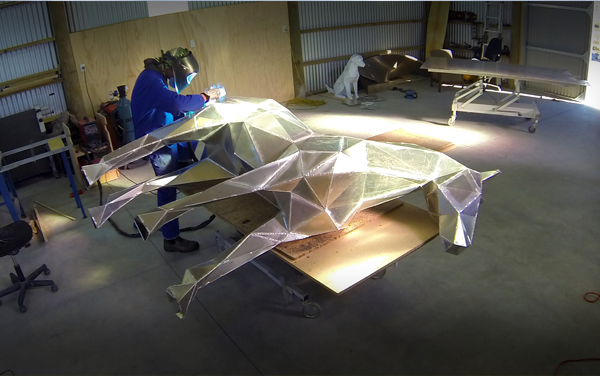 Image: Ben Foster working on the White Horse for the Auckland Botanic Gardens 2013/14 exhibtion in his Kaikoura studio
Laisee
Group Show: Koru Contemporary Art
Hong Kong

Celebrating Koru Contemporary Art's ten years of exhibiting art in Hong Kong, this exhibition takes a stroll through our story and is a tribute to all the artists that the gallery has collaborated with over this time.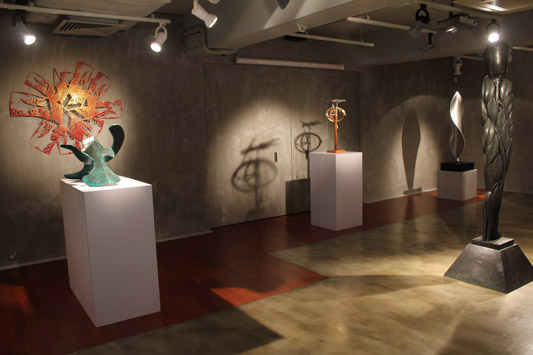 Image: Works by New Zealand sculptors at Laisee Group exhibition - Koru Contemprary Art, Hong Kong. From Left: Old/New/Borrowed/Red by Neil Dawson, Dragon Spirit/Taniwha by Tanya Ashken, Foresee by Graham Bennett, Voyage II by Ben Foster, Figure in a Landscape by , Terry Stringer
Sculpture on the Peninsula
Loudon Homestead, Banks Peninsula

The Lombardy Charitable Trust will host Sculpture on the Peninsula at Loudon Farm, Teddington, Banks Peninsula over the weekend of the 4, 5, 6, November. Sculpture on the Peninsula is the largest outdoor sculpture exhibition in the South Island, and will showcase a vast range of works from both New Zealand's leading and emerging talent.
Visit Sculpture on the Peninsula website for more information: www.sculpturenz.co.nz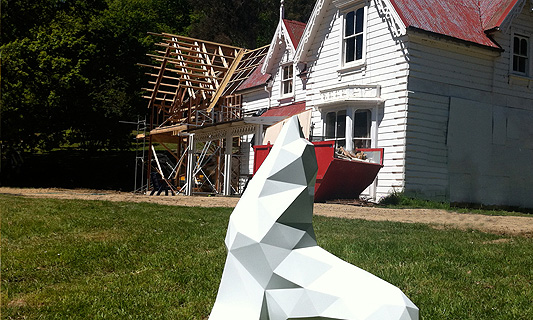 Image: Reconstruction, Kekeno being installed near the old Loudon Farm homestead, Teddington, Banks Peninsula in preparation for Sculpture on the Peninsula
Book Lauch: The Artists: 21 Practioners in New Zealand Contemporary Art c. 2011-2013
The Artists: 21 Practitioners in New Zealand Contemporary Art c. 2011-2013 showcases 21 full-time New Zealand artists working in sculpture, photography and painting. The publication presents emerging artists alongside established names providing in-depth information on their current practices and a wealth of full-colour images of pieces from their current portfolios.
This volume features the following artists: Ben Foster, Andrew Barns-Graham, Josephine Cachemaille, Kevin Capon, Candi Dentice, Ted Dutch, Liam Gerrard, Will Handley, Ray Haydon, Linda Holloway, Cruz Jimenez, Gina Jones, Susanne Kerr, Clare Kim, Damien Kurth, Paul Martinson, Shintaro Nakahara, Yoshiko Nakahara, Pj Paterson, Alan Pearson and Martin Selman.
Purchase this book from: www.beatnikpublishing.com
Reviewed by the New Zealand Listener: www.listener.co.nz